NORFOLK GENERAL HOSPITAL – Caring for a family member or friend with dementia has its own set of challenges, especially if you are caring for your loved one alone. It can be draining emotionally and physically.
At Norfolk General Hospital (NGH), we want to help change that. Most of all, we want to be there for you and your loved one so you don't have to face this daunting challenge alone.
That is why we have formed a partnership with our friends at the Alzheimer Society of Brant, Haldimand, Norfolk, Hamilton and Halton (ASBHNHH) to help people living with dementia and their families get the help they need as soon as possible when they visit the emergency department (ED).
On January 16, 2023, NGH and the ASBHNHH introduced a Dementia, Resources, Education, Advocacy, Mentorship (DREAM) Team to the ED. The Dream Team includes a Home & Community Care Coordinator and a Community Resource Member.
The Dream Team supports ED staff in identifying, communicating with and redirecting patients who may be suffering from dementia to more appropriate outreach support options.
Stephanie Saur, a Psychogeriatric Resource Consultant with ASBHNHH is a proud member of the NGH ED team. Nurses and physicians in the ED come to Stephanie when a patient shows signs of cognitive concerns, such as memory loss. Stephanie will then introduce herself to the family and their loved one and discuss concerns or challenges they are currently experiencing. She explains that it's vital to put services in the home for individuals experiencing dementia and to focus on supports for their care partners.
"Our hope is that, if a patient is medically stable, we can divert admission to hospital by offering them support and resources in the community, said Stephanie. "By being in ED, we are able to connect caregivers and patients with our services very quickly and offer immediate strategies to manage some of the behavioural difficulties they may be experiencing. I also work closely with the staff in ED to encourage connection to community resources and engage with the patients while in ED to hopefully reduce the need for physical or chemical restraints. We have resources for staff to use such as music players, Ipads and various activities that can be given to patients to keep them calm and engaged. Our hope would be that with our involvement and connection to services, this will reduce the need for future visits to the ED."
The ASBHNHH estimates that more than 2400 people in Norfolk County are living with dementia. Connecting to the right supports early in the dementia journey can make a big difference in the quality of life for both the person diagnosed and their care partners.
Currently, the population of the residents in Norfolk County between the ages of 65 and 100 is roughly 19,305.
"In my short time in the ED at NGH, 90% of the caregivers who present have been exhausted and feeling like they can't manage their loved one at home any longer. The earlier connection to services is involved, the less likely the individual is going to visit ED again (unless there is a medical concern)," said Stephanie.
NGH and the Brantford General Hospital (BGH) both participate in this pilot initiative that was created by the Brantford Brant Norfolk Ontario Health Team.
Adam Isaacs, who is the Clinical Director of the Emergency Department and Intensive Care Unit at NGH says the ED is always looking at ways to be more innovative, which includes working with our amazing community partners to improve services offered in Norfolk County.
"We know that patients with dementia do less well in a hospital setting, so this is a great an opportunity to avoid admissions to hospital which takes an individual out of the comfort and familiarity of their home," said Isaacs. "Remaining at home is best for the patient, it's best for the caregiver, and it's best for the health care system at a time of significant strain. I am excited at the impact this initiative will have for patients, and the ED team."
Early results show that implementing the DREAM team to the NGH ED has been extremely successful.
Since the program launched on January 16, roughly 57 per cent of dementia patients who have come to the ED have received care and were safely discharged with enhanced assistance.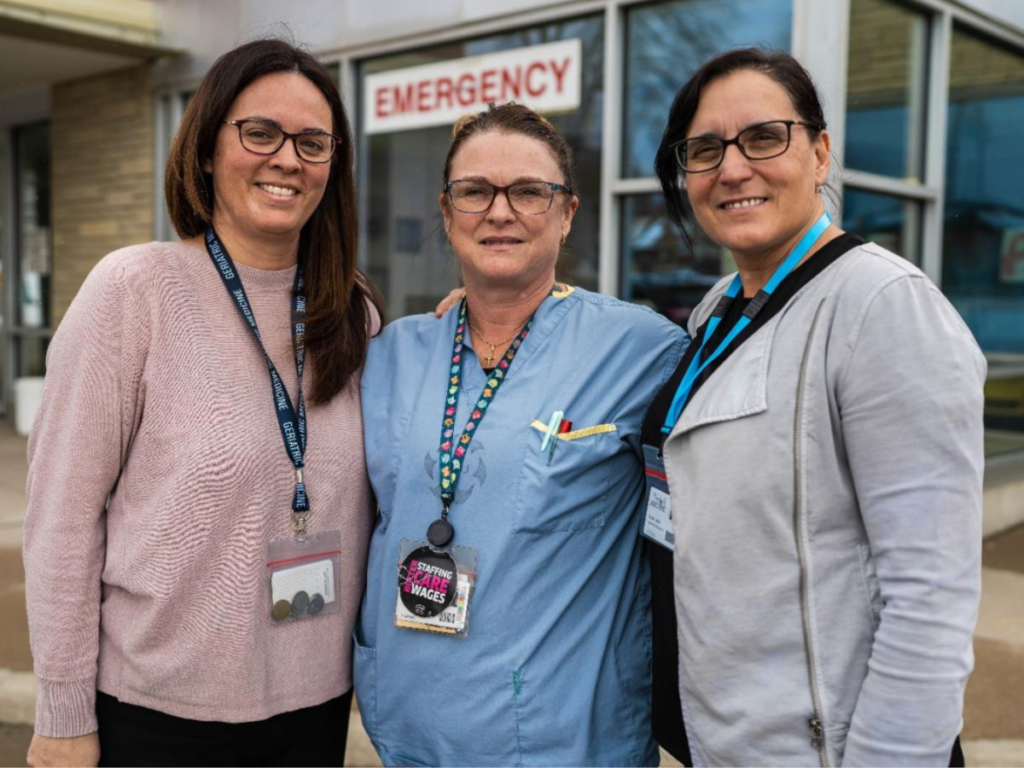 (Photo left to right): Stephanie Saur, Psychogeriatric Resource Consultant; Loralie Ferreira, Emergency Department Registered Nurse; and Maria Leitao, First Link Care Navigator for the Alzheimer Society)